Looking for subscription box companies with affiliate marketing programs? Check out Bespoke Post. Affiliate Marketing for Bespoke Post is managed in Impact Radius. Bespoke Post is a high end monthly subscription box geared towards men's lifestyle, although some of their selections are gender-neutral. The Bespoke Post team scours the world for time-tested, small-batch, or otherwise remarkable gear. Although a little more pricey than most, these subscription boxes are completely worth it! Each box is built around a specific story or theme. The most recent box that we have received, which happens to be gender-neutral, is The Slate. A batch of small delicacies served on a rugged-meets-refined slate board.
The Slate Contents:
Natural Slate Serving Board:
This piece alone is worth it! A hand-cut, rough-edged slate slab. It has its own slight surface imperfections, adding to the tough vibe and making every board unique. A piece of soapstone chalk is included for when you want to bring out your creative side and write down what foods are what.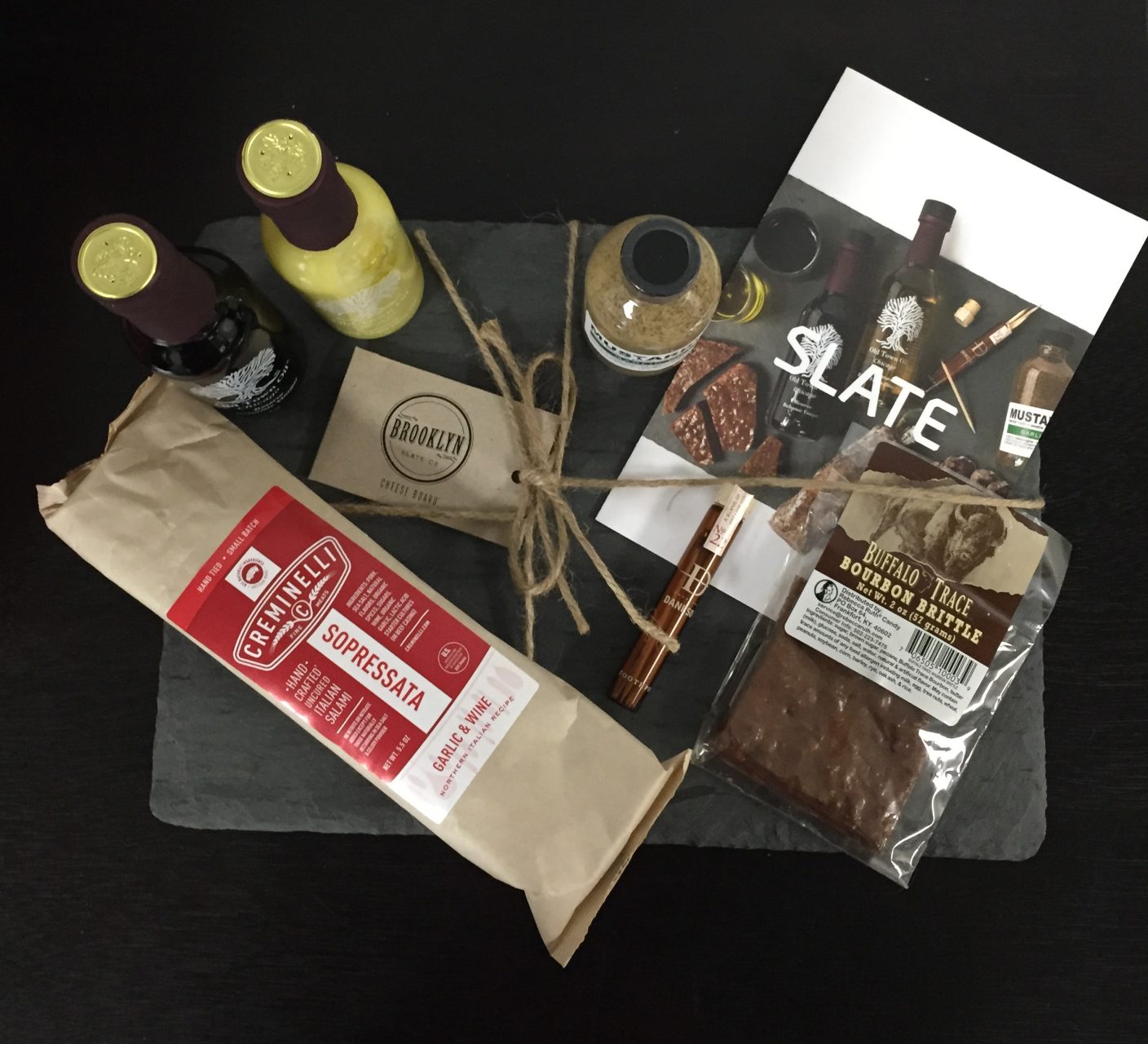 Signature Extra Virgin Olive Oil:
Classic olive flavors form a mild yet complex base with refined flavor reminiscent of almonds, tomatoes, and fresh herbs. Pairs perfectly with a fresh baguette!
Balsamic Vinegar:
Barrel-aged reserve has the texture of honey and the complexity of a top shelf single malt. Tastes delicious on salad, meat, or fruit.
Sopressata Salami:
Garlic and red wine notes give it a robust flavor that is dangerously good. It's delicious!
Bourbon Brittle:
A smoky and sweet take on peanut brittle made with booze from Buffalo Trace.
Garlic Dill Mustard:
Made the old school way, of quality local ingredients like organic olive oil, fresh dill, and lots of garlic.
Bourbon Toothpicks:
Why not? Each box is accompanied with a pamphlet informing you about the products as well as a few tips on how to get the most out of your box. If you simply were to buy this box without signing up, it would cost you $55. With a membership, it costs $45 and boy is it worth it! Every one of their boxes is valued at over $100. Shipping is always free and you are able to skip over boxes whenever you would like. As the holiday season is approaching, this is a great idea for a gift! Whether you need gifts for a relative, friend, or co-worker, the boxes they offer are perfect for any individual. What they include in their packages are of such high-quality, it is such a pleasant surprise every time we open a box. Bespoke Post affiliate partners earn 6% commission and $25 per subscription with a 45 day cookie. Related affiliates are encouraged to join the Bespoke Post affiliate program in Impact Radius. Affiliate partners can sign up directly through Impact Radius. Contact
affiliate marketing companies
, Versa and Impact Radius, for more information.