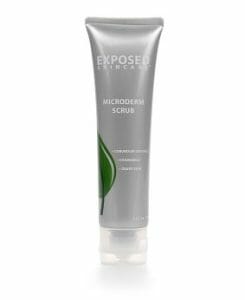 Exposed Skincare has an exclusive coupon code for affiliates each month. Join the affiliate program in ShareASale or iDev to get the code for a free Microderm Scrub! The best acne treatment exfoliating scrub on the market, Exposed Skincare's Microderm Scrub usues micro-sized crystals to polish away dead skin cells, treat pimples and leave your skin looking soft, clear and healthy. It combines gentle, natural ingredients with effective, science-based ingredients to help get rid of acne and improve the overall texture of skin.
Combined with the rest of the Exposed Skincare line, the Microderm Scrub is a standout in the fight against clogged pores and inflammation. The Microderm Scrub can be purchased separately or as part of a treatment kit that helps save money. Exposed Skincare is so confident in their products that they offer a double guarantee. Clear, smooth skin in 30 days or receive your money back.
Exposed Skincare is an innovative line of skin care products that combines the power of science with the soothing properties of pure, natural extracts to bring you skin that is not only clear, but also healthy and balanced. If you or someone you know has struggled with skin issues, Exposed Skincare can help bring out a healthier complexion.
Affiliates joined in the ShareASale network earn a 15% commission in a 45 day referral period. Exposed Skincare also has a direct program in iDev. All skincare, beauty and health related affiliates are encouraged to apply today! Affiliate program management is provided by Versa Marketing Inc, click here to learn more.