Acne and skincare affiliate agencies who are looking for a skincare program to join and promote, check out the Exposed Skincare program in ShareASale for a line of products to really get behind. With program growth last year and a promising start to 2015, it's a good time to join the Exposed affiliate program. Acne isn't the most glamorous of topics and is certainly an embarrassment for those who have it. Exposed Skincare helps address the issue without creating a fuss. Their products have helped so many acne sufferers, and with a double guarantee, it has the ability to help so many more. Join the Exposed affiliate program and recommend this line of products with confidence that acne sufferers will see results they're happy with.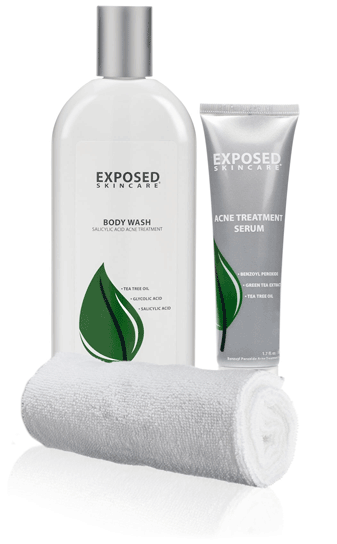 Exposed Skincare was created from a collaboration of dermatologists, cosmetologists and naturopaths. They formulated a combination of ingredients that address all four of the causes of acne while being gentle and soothing. Causes of acne are bacteria, clogged pores, facial oil, inflammation or any combination of these four factors. Unlike their competitors, Exposed Skincare incorporates natural ingredients for an approach that uses science and nature for an effective acne care solution. This truly revolutionary line of skin care products combines the power of science and soothing properties of pure natural extracts to bring out skin that is not only clear, but also healthy and balanced. If you or someone you know has struggled with skin issues, Exposed Skincare can help bring out a healthier complexion; it's guaranteed to clear acne-prone skin within 30 days. This month, Exposed is offering a couple great promotions with the Microderm Scrub and Body Acne Kit. Micro-sized corundum crystals in the Microderm Scrub are used to polish away dead skin cells for radiant and smooth skin. The Exposed Body Acne Kit provides a simple and effective way to clear up stubborn body & back acne. It's a 3-Step kit that improves skin tone and appearance from head to toe. Guaranteed to clear your body acne with 30 days! Join the program to help your clients and readers who suffer from embarrassing or painful acne. Affiliates who join the Exposed Skincare program receive 15% commission and exclusive monthly promotions with a 45 day cookie. All beauty, acne, skincare, tween and college age related sites are encouraged to join. Affiliate partners can sign up for the program directly the ShareASale network. Exposed also has a direct program available to selected affiliates.  Here is more information about
affiliate marketing agencies
and the services Versa offers.