Shabby Apple is working with affiliate management companies Versa Marketing and Commission Junction to find fashion and wedding sites to partner with. Shabby Apple creates and sells vintage-inspired clothing designed to build confidence and empower women. Their clothes are meant to evoke classy clothing from the past, both in style and coverage. They not only want to help women dress well, they want to help women live well. Are you re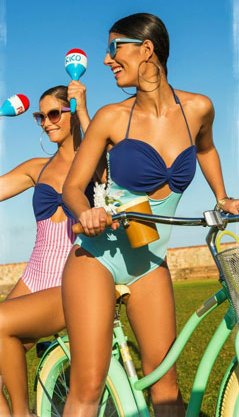 ady for summer? Shabby Apple sure is with their release of their new swim collection Isla Verde. This collection is inspired by the colorful culture and lifestyle of the city of Isla Verde in Puerto Rico. This line of swimwear encompasses all types of prints, including geometric, polka dots, and florals. Their swimsuits have the perfect amount of coverage with a retro inspired look. Want something to throw on over your bathing suit? This collection also offers stylish cover-ups and rompers. Whether you're playing in the water, catching some rays, or walking down the beach, you are sure to stand out in Shabby Apple's newest line of swimwear!
Shabby Apple offers everything you would ever want in your wardrobe, not just swimwear. From dresses and skirts, to accessories and jewelry there is something for everyone and every occasion! Shabby Apple has also been committed to sharing a portion of their profits with organizations devoted to help women in less developed countries by providing the right tools they need to achieve health, safety, and prosperity. By purchasing something from Shabby Apple, you too are contributing to helping less privileged women. Come be a part of the great work that Shabby Apple has created and join their affiliate program in Commission Junction. This program offers their affiliates great benefits, including a 7% commission with a 60 day cookie. All fashion, wedding and women's lifestyle related affiliates are encouraged to join the Shabby Apple affiliate program in CJ today! For more information on what services
affiliate management companies
offer, please visit Versa Marketing.