Ruth's Brownie Kitchen bakes gourmet brownies fresh to order and delivers them fresh to your door. This is a brilliant concept, especially around the holidays. We were lucky enough to be able to sample a few of the varieties here at the office and let me take a few minutes to describe how good these are.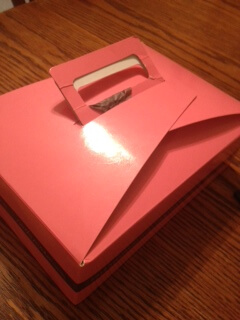 A batch of either a 1/2 a dozen or a a complete dozen arrives in this pink box. They are shrink wrapped inside the box, and that was quickly removed.You will immediately experience the fresh baked brownie aroma.
I put the chap stick there for sizing, because that is a 1/2 dozen brownies. That is a lot of brownies and every one agreed that they were rich enough and big enough for each brownie to be counted twice. The Ruth's Brownie ShareaSale Affiliate Program is open to qualified bloggers and gift websites. This program is set up to offer affiliate publishers a 10% commission on all sales. This is a particularly good program before holidays! Qualified Bloggers can also apply for the blogger product review program. Contact
Versa
Marketing if interested.