I was recently given the opportunity to review these awesome
Gear Ties
from
Nite Ize
. When you hear the words Gear Ties, you're probably thinking of those annoying and hard to get off zip ties that are only removable with scissors, or those flimsy wire ties that hold bread packaging closed. Nite Ize Gear Ties however, take the idea of the wire bread tie, and the
durability
and
strength
of the zip tie to make one awesome and
convenient
tie with
endless uses
. I received three different sizes of Gear Ties in three separate packs to review: one package of two 3" ties (one black, one red), one package of two 12" ties (navy blue), and one package of two 32" ties (bright green).
Nite Ize Gear Ties
are made of a bendable wire interior with a
durable
, soft rubber exterior. They're the perfect solution for containing and
organizing
anything from medium to long cords and cables, hair dryers, kitchen appliances, game console cords, and any other electronics. They come in multiple, bright colors, are reusable, water-proof, and have never ending uses. On their website they show you multiple uses of these durable ties using different sizes and all sorts of techniques. The most obvious use would be tying up lengthy and messy cords in your office or around the house. I used the 3" black tie, along with the two 12" navy blue ties to organize the cords under my desk in my office. I no longer find my feet getting tangled in the cords, running the risk of pulling one out of the wall. Not to mention my office now looks clean and organized! [caption id="attachment_2755" align="alignnone" width="225" caption="Before"]
[/caption] [caption id="attachment_2741" align="alignnone" width="300" caption="After"]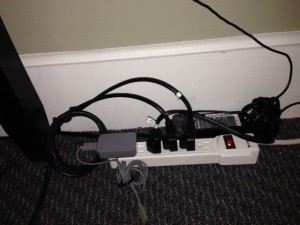 [/caption] [caption id="attachment_2740" align="alignnone" width="225" caption="After"]
[/caption] On my desk I only use about 3 different pens and don't see the need of having a large and chunky pen holder cluttering my desk. The 12" Gear Tie makes for the perfect pen/pencil holder! It's easily twistable around the pens and stands up perfectly without any effort. These
minimize clutter
on my desk and keep all of my pens together. While working, I also enjoy the ease of simultaneously checking emails or texts on my phone while working on my laptop. Using the 12" Gear Tie I have found a way to bend it around the base of my phone to make a stand for it so it stays propped upright for easy use. I can look up something on my phone and easily reference it back and forth when working on my computer.
On their site they show you how the 32"
Gear Ties
can make for durable and sturdy tie downs on top of the car when going on trips, such as camping or ski trips. Not only is this a great idea, but also inspired me to use them for other trips I may go on. I fly often and generally on my own, so bringing more than one item of luggage proves to be a struggle for me. Having some sort of connector for my luggage would make traveling absolutely ideal and help me consolidate it as if I were only carrying one item. I used the 32" green Gear Ties to connect my carry-on suitcase to my larger suitcase using the handles. This made for extreme convenience and reduced my traveling time through the airport in half.
With summer approaching, I began to think of more uses for these little ties outside. Seeing as they are
waterproof,
sun proof
, and extremely durable, I thought of using them in my garden to hold up my tomato plants, or to hold my flowers together to make a bouquet. I also discovered a way to hold my seed bags or soil bags tightly closed, wrapping one 12" gear tie around the opening I am able to keep the bag closed and locked tight! This prevents any spilling at all. Since my garden isn't quite up to par yet, I used one small 3"
Gear Tie
to tie together my fake flowers in my office to hold them tight when putting them in a vase.
The uses for these amazing little ties are endless! Every evening I take my rings off before bed and seem to have trouble finding a place where I can keep them all together. At least one seems to always get misplaced and it drives me crazy! I used the small 3" black Gear Tie as a ring holder, and now all my rings are kept together and it
removes the worry
of me losing them! When going to the gym or yoga, I usually run straight from work to get there in time. The hassle of bringing a separate large gym back just for my shoes or yoga mat is always an annoyance. Not only that, but having to find ways to keep my yoga mat rolled tight and together also seems to be a struggle--bring on the
Gear Ties
! I used one 12" Gear Tie to fasten my running shoes onto my bag with ease and convenience, and then used one of the 32" ties to keep my yoga matt rolled tight!
The best part about these
Gear Tie
s is their
re-usability
. I can bend and morph these things into virtually any shape I want to hold numerous things in place, and can still undo them and bend them back into their original shape easily. I can't wait to find out more uses for these things in the weeks to come! For more awesome products or to purchase these Gear Ties check out the
Nite Ize website
at
www.niteize.com.