The Nite Ize affiliate program in Commission Junction and AvantLink is great for those looking to promote small, essential tools for wallets, key chains or pockets. Key tools are great for those who want to be prepared with a handy and discrete multi-tool.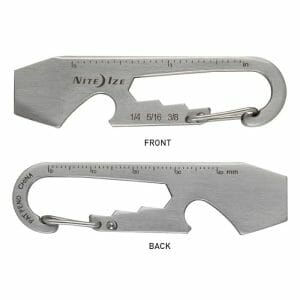 The DoohicKey is a lightweight, compact keychain multi-tool that features six handy tools for everyday use. Made of durable stainless steel and able to do anything from open a refreshing beverage to tightening bolts, this simple tool fits in the palm of your hand. It even has a carabiner clip, allowing you to attach it to any hook or ring and easily remove it for the freedom to use it. The DoohicKey has is a box cutter, bottle opener, wrench, ruler and flat head screw driver.
The Nite Ize affiliate program is managed the in Commission Junction and AvantLink networks. Affiliate partners receive 12% commission, in a 90 day referral period and affiliate-exclusive coupon codes. They also have a full datafeed that can be accessed in Commission Junction or AvantLink. All survival, minimalist, DIY, outdoor gear, multi-tool and related affiliates are encouraged to join the Nite Ize program. Affiliate program management is provided by Versa Marketing Inc, click here to learn more.