Creativebug has recently updated their affiliates program in the ShareASale network. Aiming to be your go-to source for online art and craft instruction, Creativebug adds new classes weekly. With some of the most inspiring designers and crafters, they bring video workshops right to your screen. Whether you're an accomplished artist or just getting acquainted with a glue gun, their workshops provide project ideas, expert guidance and a healthy dose of creative inspiration.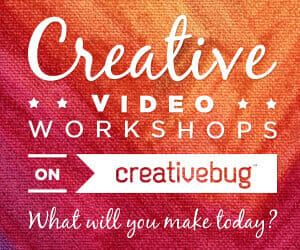 Creativebug offers an all-you-can-make approach to crafting and DIY. Members can purchase individual workshops one at a time, or for a low monthly fee, subscribers get complete access to a full library of creative video workshops in knitting, crochet, sewing, jewelry, printmaking, paper arts, and more in many categories like entertaining, home décor, kids, needle felting, wedding, and gift wrap.
It is also important to Creativebug to strive to make a difference. They donate 5% of all subscription revenues to non-profit art organizations. So, what are you waiting for? Make a pattern. Make a print. Make a difference.
Creativebug has recently increased their commission structure. Affiliates joined in the ShareASale network will now earn a 30% commission in a 30 day referral period. All crafting, sewing, homemade projects and DIY related affiliates are encouraged to apply today! Affiliate program management is provided by Versa Marketing Inc, click here to learn more.