Exposed is an effective skincare line that uses natural ingredients and is a great option for those looking for an acne affiliate program other than Proactiv. The Exposed affiliate program can be found in the ShareASale network. It's a full spectrum approach that treats acne and heals skin. Acne is usually caused by one or more of four issues and Exposed addresses all of them without overly harsh medicines. Natural ingredients like Green Tea, Passion Flower, Aloe Vera and Tea Tree help to kill bacteria, reduce inflammation, soothe irritated skin and improve healing.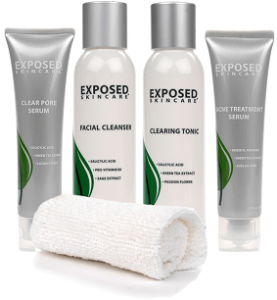 Other products on the market have a limited focus when it comes to treating acne. While it's better than nothing, the results are also limited and can prove very frustrating for the user. Exposed has recognized these limitations and developed a comprehensive skincare line to address clear skin from all angles. With the help of dermatologists, cosmetologists and naturopaths, the resulting combination of science and nature is a revolutionary skin care approach that treats and prevents acne so your skin can return to being healthy and balanced. If you or someone you know has struggled with skin issues, Exposed Skincare can help bring out a healthier complexion.
Affiliates earn a 15% commission with a 45 day cookie. Exposed Skincare has a direct program available to selected affiliates. All skincare, beauty, acne and health related affiliates are encouraged to apply today! Affiliate program management is provided by Versa Marketing Inc. Click here to learn more.