New banners are live in ShareASale for the Exposed Skincare affiliate program. These new banners have a clean, organic feel to them and will work very nicely for all affiliates who have space in a highly visible spot on their website. All six new banners feature a pretty, fresh faced model and use "Science + Nature" as a tagline to target a wide audience.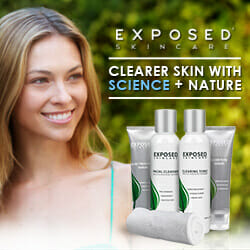 Exposed Skincare is a truly revolutionary line of skin care products. The power of science combined with soothing properties of pure natural extracts bring you skin that is not only clear, but also healthy and balanced. If you or someone you know has struggled with skin issues, Exposed Skincare can help bring out a healthier complexion; it's guaranteed to clear acne-prone skin within 30 days.
Affiliates joined in the ShareASale network earn a 15% commission for a 45 day referral. Exposed Skincare also has a direct program in iDev. All skincare and beauty related affiliates are encouraged to apply today!